our (fucking) lives
print, editorial, book design, graphic design
role
art direction, concept, design, research,
interview, transcription, photography



---
---
A vibrant and rough coffee table book focusing on kink, alternate sexual education, and related misconceptions, as told by everyday people.
With its outerior paying homage to Madonna's "Sex" book, "our (fucking) lives" focuses on three Philadelphia area sexual educators and doers.
The book is split into three parts to focus on each individual and their specific area of interests and expertise.
Sir Brian: alternate sexuality educator and professional dominant
Galia Godel: sexuality educator and sexuality therapist for adults with intellectual disabilities
Goddess Thain: dominatrix, bdsm & sex educator, co-founder of 'The Aviary'
I chose this subject matter because of its initial allure.
All too quickly however, the unseen challenges that people active in this scene have to endure became evident.
---
I: Sir Brian

Sir Brian was an interesting character. He was born in France, raised in Spain. If encountered on the street before conducting this interview, I probably wouldn't even have thought twice. Just a seemingly normal looking fellow— tall and with a shaved head, glasses— perhaps deemed a little nerdy.
Brian described himself to me as a "flailing cucumber". Outside of being in his element in the sexual world of teaching and being a professional dominant— he is a usually anxious guy. Kink was a lot like art school according to Sir Brian. There was a hierarchy to it. People fit into categories and resonated with a particular crowd. There would be certain erotic practices that would be aesthetically pleasing to the general public and highly sought after, while other practices that were more interesting to him were disregarded since they involved the nitty gritty (such as needle play).
II: Galia Godel

Galia Godel was lovely to chat with. She was extremely enthusiastic to share her journey into the world of sexual eduation and therapy for older, disabled folks.
Religion oftentimes surpresses and condemns the interest of sexuality, let alone owning and questioning it just like Galia encouraged. Her roots in Judaism however, celebrated the profound enthusiasm to learning about anything as long as you were invested.

Galia studied human sexuality in college. She presented sexuality to me through a scientific lens. The more experimentation and communication you conduct, the more data you get, and the data you accrue, the more you learn about yourself— whether that is your needs, your desires, or the things you absolutely detest.

She constantly talked about the importance of communicating boundaries— hard boundaries, soft boundaries, the negotionable, not negotionable territories, and how the implementation of these boundaries could also be applied to ourselves as humans in relation to our personal principles and morals.
There is a preconception of what something should look like or act like, even in the world of kink— whether it is women with the perfect silhouette who know how to give and take orders or robust men who know how to call all the shots. All of these notions exclude the people who do not fit in those constructs.

In example, rope play in recent years has gained popularity. Much of this spread through social media, blogs, and being referenced in pop culture, such as "50 Shades of Grey" or Rihanna's "S&M" music video— both examples of the romanticized world of sexuality. There are sides of kink that are deemed "pretty". There are idealized images of what people involved in this culture should look like. Skinny girls with intricate knots adorning their chests, but what about the people that look just like us, who don't have muscles, or are missing an arm?
III: Goddess Thain
As soon as I got to their house to interview them, Thain immediately asked if I had anything to eat that day and quickly offered me chicken stew over rice. Their hospitality was unmatched. Thain definitely felt like a motherly figure to me— nurturing and empathetic— two words that normally wouldn't be associated with a dominatrix.
Thain is from Trinidad & Tobago. They always knew that their sexuality didn't quite align with what the norm was in their country. They knew that only in the US was where they could find their true personal freedom. Thain has been involved in the kink scene for 18 years. They understand that in order to teach, you must be able to understand that not everyone is coming from the same place of expertise in their lives— some are well adjusted to the scene, and others are just starting to realize the autonomy they have in the sexual lives.
In order to have a completely reciprocative experience, one must shed the idea that domination is meant to "take over and silence" the other. To be dominant is to listen and comprehend.

As a dominatrix, Thain expressed to me the
weight that comes with having such a role— getting calls during the holidays from clients to decompress— while at the same time Thain was looking to relax and enjoy their Christmas too— people look to you as a 24-
hour personal savior, where in reality they too have their own lives and responsibilities to tend to outside of the kink world.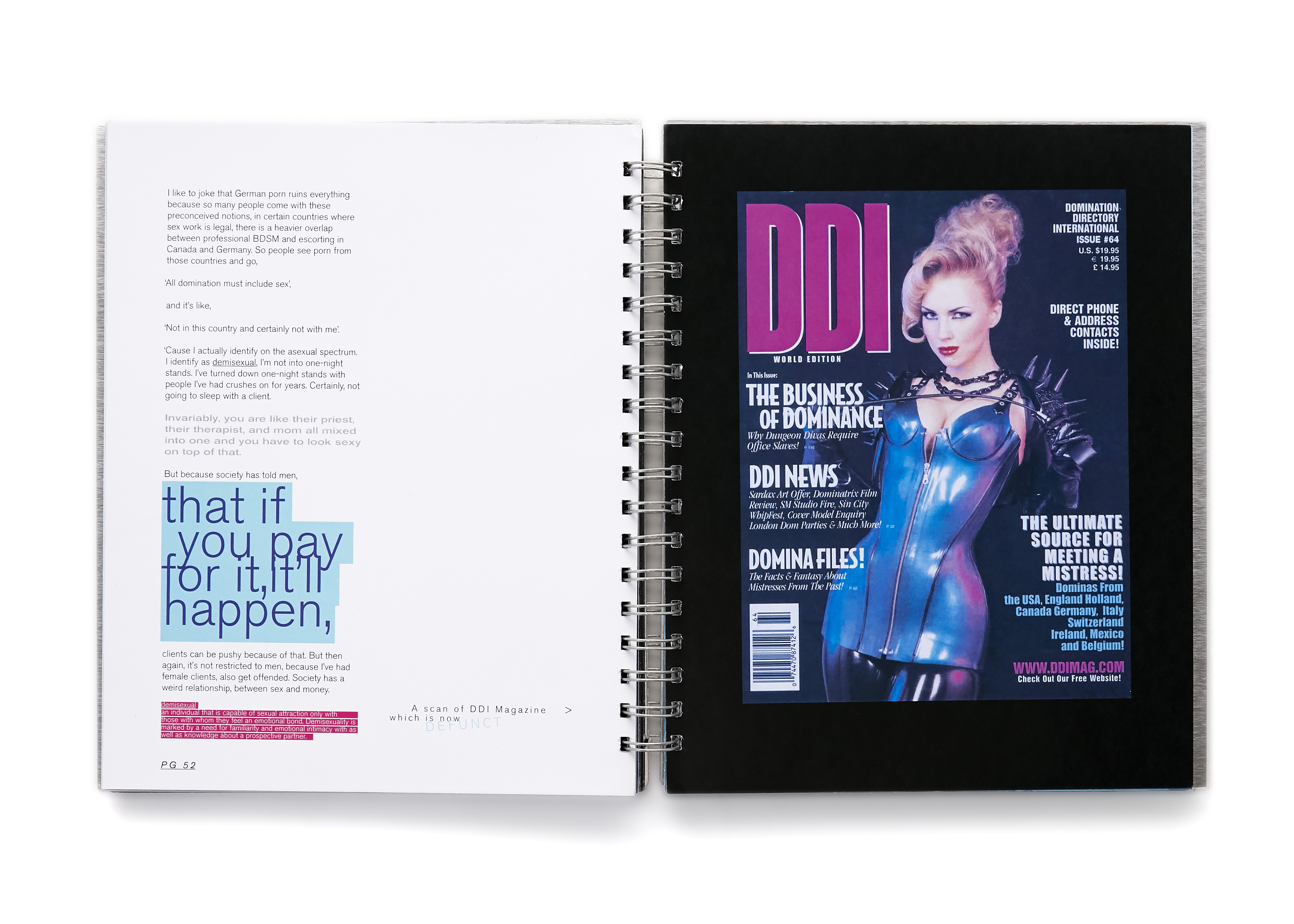 This was created as my Senior Degree Project for my completion in Graphic Design at The University of the Arts.